Web Soil Survey 3.0 — New Features
Area of Interest (AOI) Size Limit Increased
The Area of Interest (AOI) size limit has been increased from 10,000 to 100,000 acres. Soil survey areas exceeding this limit can still be set as AOIs using Quick Navigation.
---
Improved Maps and Imagery
Map background imagery is now provided by Bing Maps. The new imagery is higher quality, color everywhere, and has complete coverage. Imagery is available world-wide and at all map scales - map navigation is only prohibited near the poles (above 75 degrees north latitude or below 75 degrees south latitude).
Maps are now drawn in the Web Mercator projection, the de facto industry standard (used by Google, Bing, Yahoo, MapQuest, and others).
The general appearance of road and soil maps has also been improved.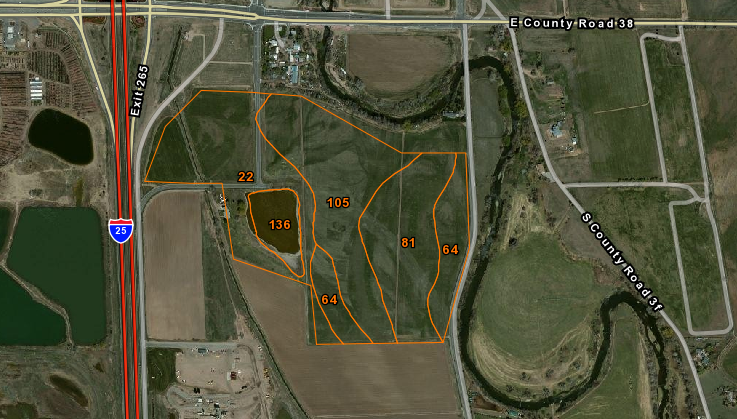 ---
Editable Map Properties
Web Soil Survey 3.0 provides expanded options for changing map properties, including:
Soil boundary color
Soil boundary thickness
Soil label size
Background image opacity
The following layers have editable properties:
Area of Interest (AOI)
Soil Map Unit Polygons
Soil Map Unit Lines
Soil Map Unit Points
Soil Rating Polygons
Soil Rating Lines
Soil Rating Points
Special Point Features
Special Line Features
Counties
Interstate Highways
US Routes
Major Roads
Local Roads
Topographic Map
Aerial Photography
Here's how to edit map properties:
Open "Legend" (yellow tab at the left of the map tool bar).
Right-click a map layer name.
If the layer has editable properties, "Edit Layer Properties" will be available. Click it. Note that not all map layers have editable properties.
Choose your settings on the "Edit Map Layer Properties" dialog and click OK.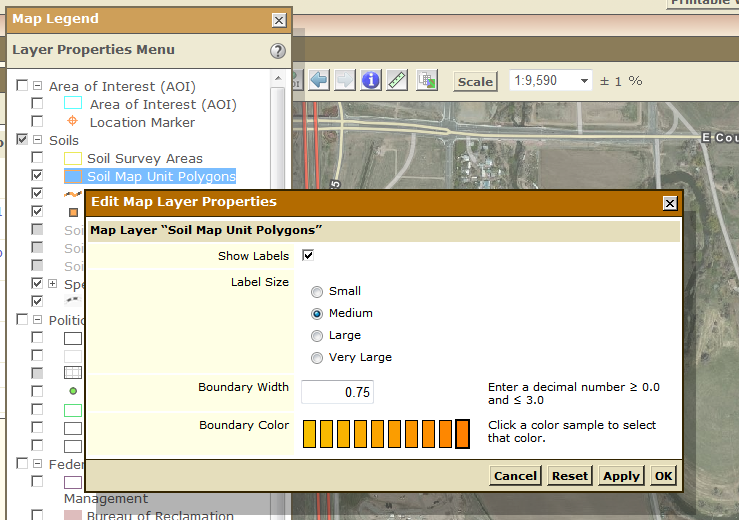 ---
Improved Display of Special Line Features
Soil special line features are now labeled according to the type of line feature. The label is an abbreviation, such as "ESO". You can use the map "identify" tool to see the corresponding feature name, such as "Escarpment, nonbedrock".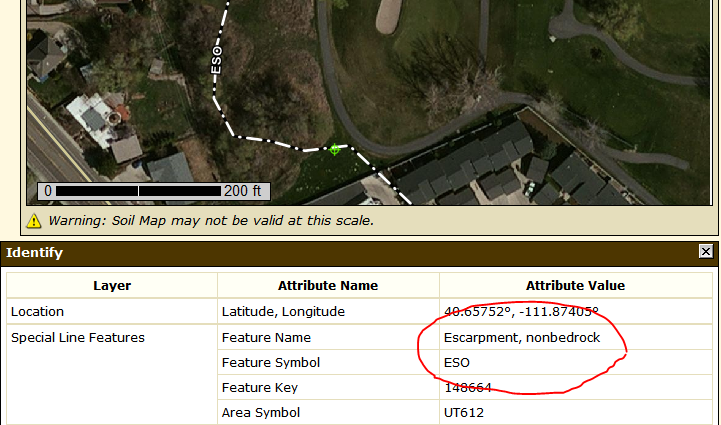 ---
Instant Soil Data Downloads Direct from Web Soil Survey
Soil Survey Geographic Database (SSURGO) and State Soil Geographic Database (STATSGO2) downloads were previously available only via the Soil Data Mart and Geospatial Data Gateway. Downloads required you to place an order and wait for it to be fulfilled. Now you can download them immediately from Web Soil Survey. Simply go to the new "Download Soils Data" tab, select your state and other display options, and you'll see a table of available data with links to download a zip file for each.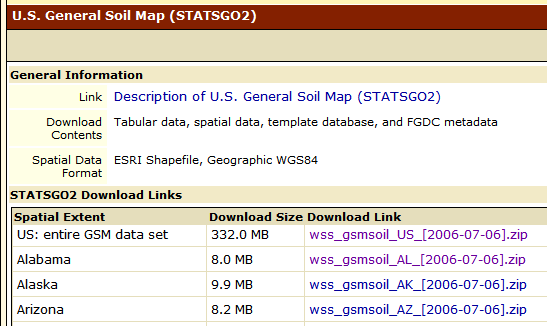 In addition, Web Soil Survey AOI downloads are now generated on-demand rather than placing an order:
Create an AOI
Open the "Download Soils Data" tab
Click on "Your AOI (SSURGO)"
Click the "Create Download Link" button
Click the link that appears under "Download Link"; it will have a name something like "wss_aoi_2012_11-13_11-36-37.zip".
---
Support for Pacific Island Area Data
The Soil Data Mart database that drives Web Soil Survey has been converted to store data in the geographic WGS84 spatial reference. This will allow Web Soil Survey to serve Pacific Island Area soils data. There may be some delay between the release of Web Soil Survey 3.0 and the availability of Pacific Island Area soils data, however.
---
Map Unit Points and Lines Added
Some soil surveys include point and line map unit features in addition to the more common map unit polygons. These map units are now included in soil maps and in the Soil Data Explorer.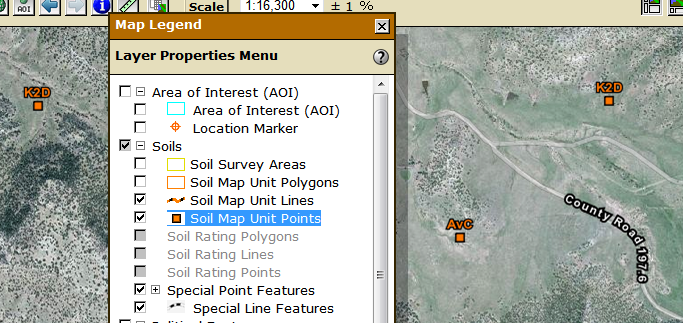 ---
Printable Map Tile Options Improved
The fixed-scale option for printable maps supports tiling of maps across multiple sheets of paper. This has been expanded to allow larger maps (more sheets). It has also been made more efficient, supporting rectangular sets of tiles rather than restricting to square (which often resulted in sheets outside of your AOI). Index maps have also been improved.
---
Soil Survey Area Quick Navigation Improvements
Soil Survey Area Quick Navigation now shows version and availability information before you set your Area of Interest (AOI). In addition, a problem with the display of long soil survey area names has been resolved.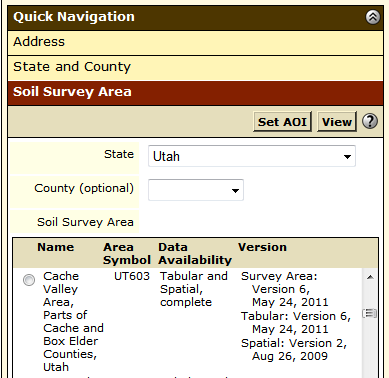 ---
Map Identify Results for All Map Layers
The map "identify" tool now shows information on all map layers at the clicked point, rather than just a selected layer.
Click the "identify" button on the map toolbar (white letter i on a blue circle)
Click a point on the map
View results on the "Identify" panel that appears below the map

---
Measurement Tool Segment Lengths
The map measurement tool shows the length of each segment in addition to the total of all segments.
Click the measurement tool on the map toolbar (green ruler)
Click a series of points on the map
Double-click the final point to end
View results on the "Measure" panel that appears below the map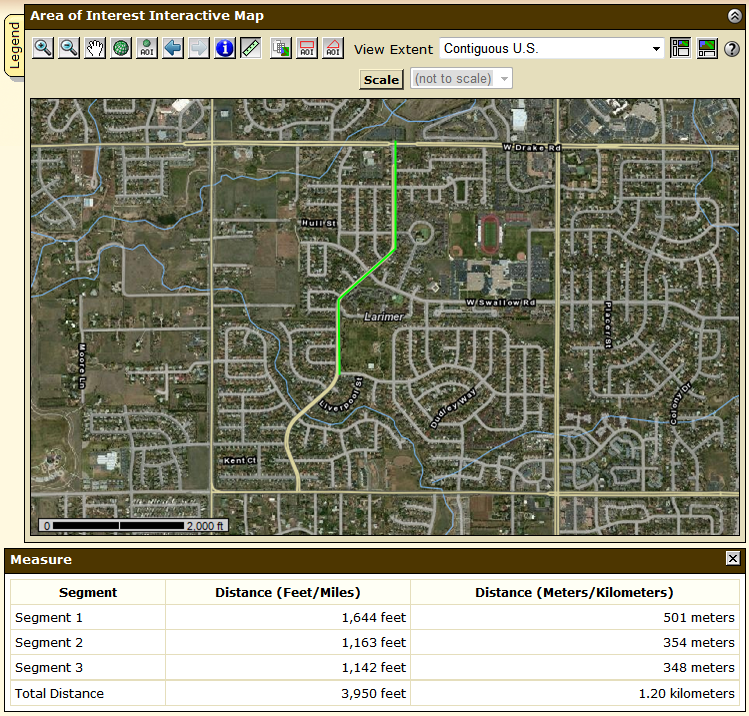 ---
Annual Soil Data Updates
Soil survey data will now be published annually at the start of the government fiscal year (October 1). Occasional high-priority updates may happen at other times of the year.
---
RSS Notification of Soil Data Updates
You can now subscribe to RSS feeds for notification of soil data updates.
Prior to the release of Web Soil Survey 3.0, Soil Data Mart customers could subscribe to a soil survey area for notification whenever data for that soil survey area was updated. Web Soil Survey 3.0 RSS Feeds will replace the Soil Data Mart subscriptions. Customers will no longer be required to register and login to subscribe/unsubscribe to a soil survey area and they will no longer have to subscribe to each individual soil survey area. The RSS Feed allows the customer to subscribe to an entire state or to all states and territories. To use the RSS Feed in Web Soil Survey 3.0, click on the "Subscribe" link located beneath the USDA logo in the upper-left corner of Web Soil Survey.
---
Expanded Hours
Web Soil Survey is now available 24 hours (maintenance periods excluded). It was previously shut down for data updates for 4 hours nightly.
Web Soil Survey will occasionally be unavailable on Tuesdays and Thursdays after 8:00 PM Eastern time for scheduled maintenance and software updates. In addition, nightly maintenance causes sessions to restart at 2:00 am Eastern Time each night. WSS is ready for new sessions a few minutes later.
---
Area of Interest Map Unit Selection
Quick Navigation for Soil Survey Area now allows an Area of Interest (AOI) to be created by choosing map units from a list. This creates a non-spatial AOI that does not provide soil maps but allows quick access to Soil Reports, Suitabilities and Limitations for Use (without Soil Ratings maps), and Soil Properties and Qualities (without Soil Ratings maps).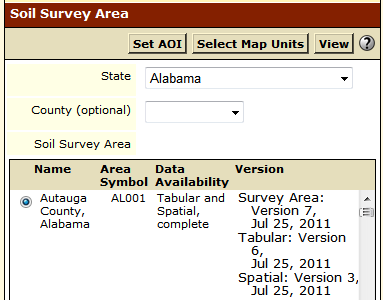 Click "Soil Survey Area" under "Quick Navigation"
Select a State and a Soil Survey Area
Click "Select Map Units"
Select map units from the list that appears
You now have a non-spatial AOI and can go to the "Soil Data Explorer" tab